Fibre Optic Collimators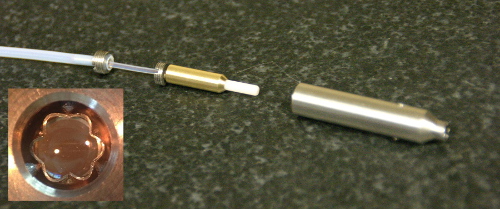 Designed for challenging environments and extended operational lifetimes the AGISEN fibre optic collimator is a rugged and precise alignment component. The component is actively aligned during manufacture enabling a pointing accuracy of <0.001rad to maintained with respect to the external collimator housing.
A dual lens attachment system incorporating a high-temperature adhesive and a mechanical crimp allow precise alignment and robust attachment of the lens. The fibre ferrule component can be either permanently mounted within the housing or held using a small grub screw allowing divergent or focused beam profiles to be utilised. In addition, a small access port arrangement is provided to the rear of the lens to allow nitrogen flushing if required.
The collimator is suitable for various fibre core/cladding sizes and can be manufactured from polyimide and metal coated as well as standard primary buffered optical fibre. The primary fibre protection system consists of PTFE tubing system mechanicall mounted directly into the rear of the collimator assembly.
Whether you are looking for standard collimator assemblies or something a bit more exotic please feel free to contact us on the email provided or give us a call.